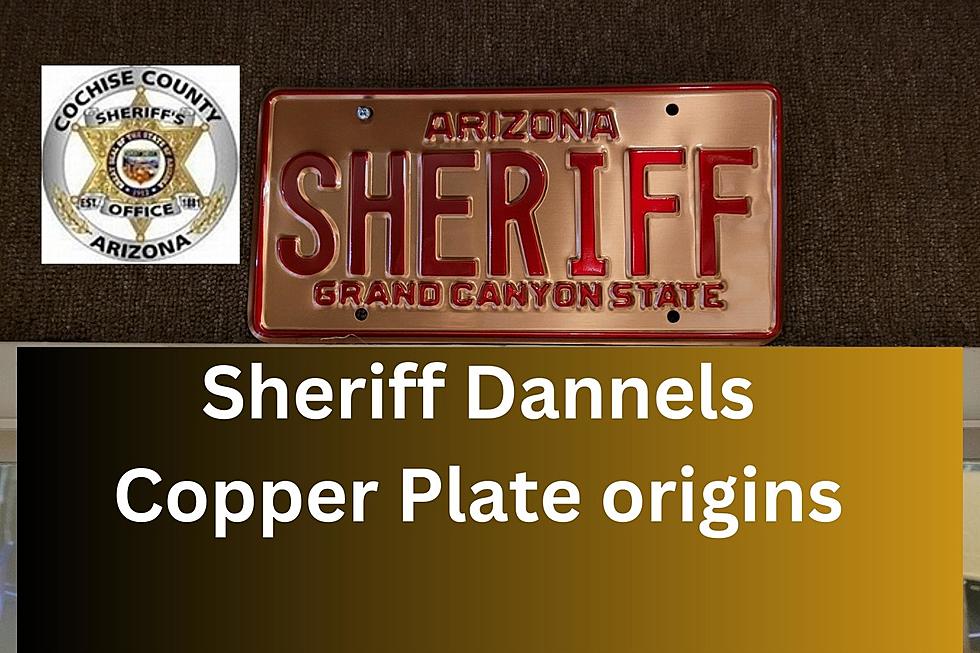 Cochise County Sheriff Dannels Copper Plate origins
Photo credit Grady Butler CANVA
Cochise County Sheriff Mrks Dannels has a special gift he gives for special occasions. When you scroll through the Cochise County Sheriff's Office Facebook page, you will eventually see a picture of someone holding one of these copper plates that look like a license plate. Sheriff Dannels discussed the origin of the copper plate on the "First Watch" radio program on 92.3 KWCD. "First Watch" can be heard every Friday 7 am to 8 am on the radio or online here
Sheriff Dannels: The copper plate is, first of all, one of the C's of Arizona. Cattle, copper, climate, and citrus. This plate is copper. When I was Arizona sheriff's president for four years, every president of the Arizona Sheriff's Association gives out a certain memento, a certain item, and the copper plate is mine, I should say I say ours. I use it on behalf of the Cochise County Sheriff's Office. Governor Ducey has one. Governor Hobbs got one when we met her. The President United States, former, has one. That's the way we share our gratitude with that copper plate. It's very cool.
I think they're neat; they're heavy because they're actually copper, and they're made through the Department of Corrections. The DOC makes those plates for us.
When we have guests or VIPs, or I just want to recognize somebody for something special like a retirement. That's what I hand out, besides our challenge coin, which is pretty traditional, the copper plate is unique.
(See the picture below) You can see one of the plates at Urbano on Highwat 92 among their license plates from around the United States.