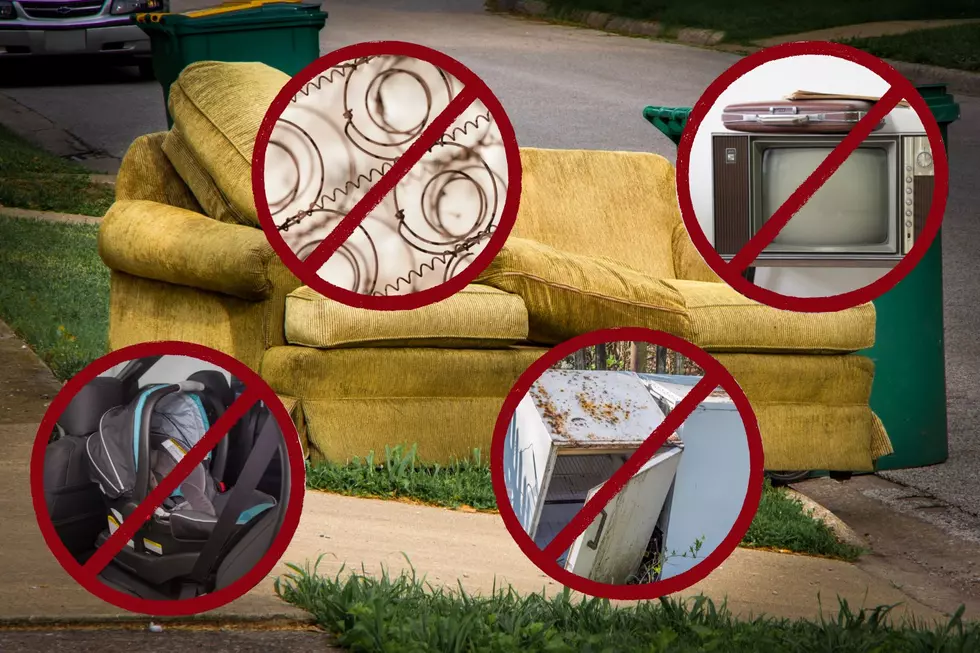 10 Donations Arizona Goodwill Doesn't Accept
Canva
Spring cleaning has started at my house.
As I was turning out my closet and back room, I started making piles: keep, throw way, donate, and...well, I'm not sure.
We've had an old box television in our backroom for years, and since we never use it, I figured I'd drop it (gently) into the "donate" pile; same thing with that old mattress in our guest room. We recently replaced it, and this one is only about five years old. Or maybe ten. Who remembers?
I decided to do some research to see if Goodwill can take these items. To save you some time, here's what I learned.
1. SOME OF YOUR OLD FURNITURE MAY BE A 'NO GO'
According to the Donation Guidelines on the Goodwill website, furniture has can be taken but under certain conditions. Specifically, they can take some furniture items, as long as it is not covered in animal hair, broken, worn, torn, stained, mildewed, rusty, missing parts or disassembled. Some locations can't take furniture donations at all, so it's always a good idea to ask in advance.
2. SO, WHAT ABOUT THAT OLD BOX SPRING AND MATTRESS?
That's also on the list of things they can't take off your hands, for sanitary reasons. Also on the no-no list are bed rails, sleeper-sofas, air-mattresses, bed pillows and bean bag chairs.
3. FINE. BUT I'M SURE THEY'LL WANT MY OLD TV...
Actually, it depends. They'll take that extra working flat screen television off your hands, but if it's one of those old box-style TVs like the one your grandma gave you, you're out of luck. They just can't resell them. If you have one you'd like to get rid of, solid waste facilities have a method for dealing with old, used appliances and it's easier than you think.
4. MY SISTER BOUGHT A FRIDGE AT A THRIFT STORE ONCE. HOW ABOUT THAT?
Nope. And since we're talking about used appliances, Goodwill also cannot take certain things like stoves, a/c units, washers or dryers, dishwashers, refrigerators, freezers, trash compactors or hot water heaters.
5. MY BROTHER IS A CONTRACTOR, AND HE'S GOT SOME EXTRA STUFF LYING AROUND. WHAT'S THE STORY THERE?
For a variety of reasons to include safety and limited resale space, find someone else to take those old building materials off your hands, because Goodwill just can't. They won't accept lighting or plumbing fixtures, windows, doors, garage doors, shutters, sinks, tubs, toilets, fencing, gutters, lumber, concrete, bricks, stone, or window blinds. Curtains are okay.
5. BUT THEY'LL TAKE ALL MY OLD CLOTHES, RIGHT?
Let's face it: that old Mötley Crüe t-shirt you wore out in 1987 really needs to go in the trash. First, no one is gonna be as sentimental about it as you. Plus, that hole in the sleeve and the mustard stain on Nikki Sixx's forehead mean's it's not vintage. It's garbage.
Same thing goes for underwear and socks. It doesn't matter if you washed everything in bleach a hundred times, don't make the Goodwill staff touch your gross underthings. They're gonna toss them out anyway. If you're absolutely dedicated to finding an alternative to tossing these things in a landfill, Utopia.org has some fresh ideas for you.
WASH YOUR CLOTHES BEFORE DONATING!
I always wash all my clothes before I donate them to any thrift store. It's just a nice thing to do. Even if you put them away clean, if your favorite pair of low-rise jeans has been hanging out in your closet since 1998, it's time to give them a refresh.
A FEW MORE THINGS GOODWILL WON'T TAKE
Used makeup.
Unbound carpeting and area rugs that are covered in animal hair, torn, stained, mildewed, or soiled.
Children's items including baby furniture, cribs, strollers, car seats, highchairs, playpens, changing tables, bassinettes and baby walkers.
Hazardous materials and paints.
Medical supplies, crutches, and portable toilets.
For a complete list of items Goodwill in Southern Arizona would love to take off your hands, please see their website.