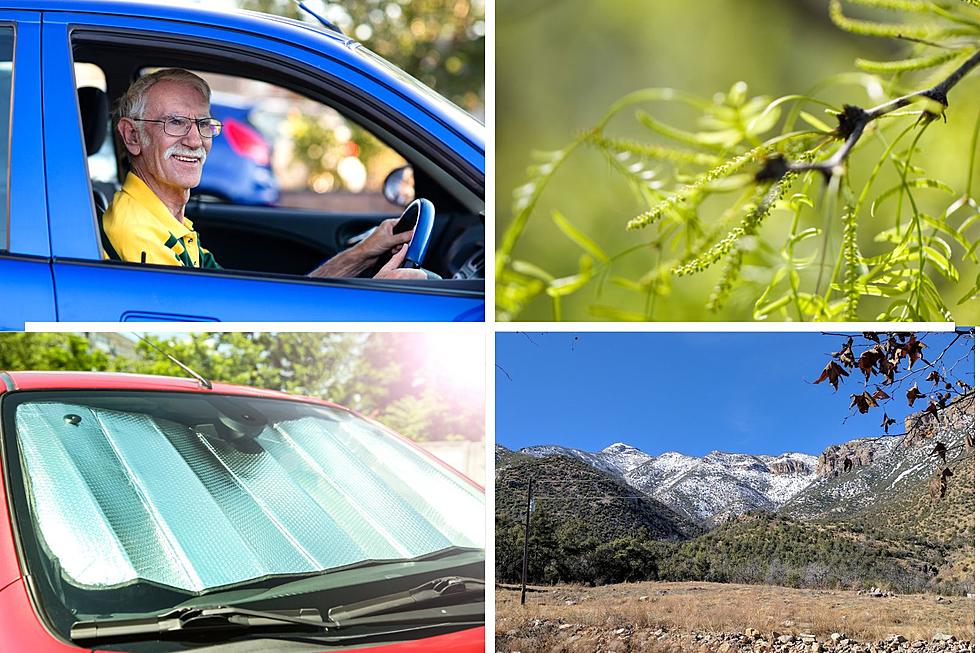 5 Signs Winter is Over in Arizona
Images on left: Canva; Images on right: Val Davidson/TSM
The change of seasons in Arizona is much more subtle than is in other parts of the nation, but you can spot it if you know what to look for.
For example, signs of spring in the Midwest are snow melt, warmer days, and the return of the mosquitoes.
Here are five signs spring has arrived in Arizona:
5. Sunshades Return to Car Windows
In spite of the myths the rest of the world seems to hold regarding the heat here in Arizona, it's not hot all the time. In fact, when you see the weather report on The Weather Channel, it seems they only tell you what the temperature in Phoenix is.
You'd be forgiven for thinking all of Arizona is 114 degrees most days, but in reality, it almost never gets that hot in the rest of the state. However, we don't have much of a gentle ramp up from Winter to Spring to Summer the way most states do.
In Arizona, it might be freezing and in the 40s on Monday, crazy windy on Tuesday, and 80 degrees and perfect by Friday. The following Monday, we're all searching under the driver's seat to fish out the windshield shade we haven't used since mid-November.
4. Outdoor Events Return
On any given weekend in May, the city schedules ALL. THE. EVENTS.
For example, the first weekend in May there's an animal event in the park, a street fair on one end of town, and a big, city-wide garage sale in a prominent neighborhood.
And those are just the highlights. By June, we button up our houses from the heat, turn on the air conditioners and swamp coolers, and wait for monsoon season to start.
3. Snow Disappears from the Mountains
One day the snow is kissing the mountaintop, looking all picturesque, the next day it waterfalls off the mountain and disappears.
2. Mesquite Leaves Suddenly Burst Out
This is another one of those Arizona things that happens overnight. One day the mesquite branches are bare and spindly. The next day, they're lush with a bounty of green leaves.
You might see flowers popping up around town and other trees as they begin to leaf out, but legend has it that you can't be sure we won't get another cold snap until the arrival of the Mesquite leaves.
1. Snowbirds Fly Home
Ask any native Arizonan, and if they're being honest, this is their absolute favorite time of the year.
There's no set day in spring when this happens. It's more like noticing the gradual changing of leaves from summer to fall colors in Vermont. This phenomenon is largely dependent on the weather - back east, that is.
If it suddenly warms up in Ohio or Minnesota, you'll likely notice fewer people driving ten miles an hour under the speed limit with their blinker on as you make your way along Highway 92.