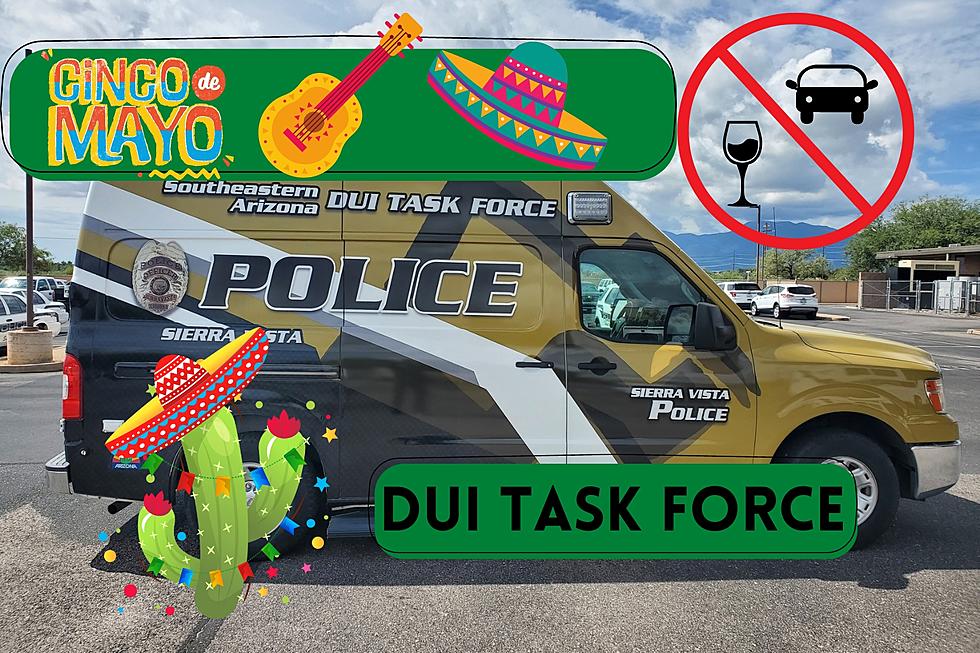 Cinco de Mayo DUI Task Force Sierra Vista
Photo courtesy of SVPD Canva
The Southern Arizona DUI Task Force Will be out in Sierra Vista Friday Night for Cinco de Mayo with a saturation detail. Sergeant Wachtel with the Sierra Vista Police Department said, "Friday is Cinco de Mayo; with that said, have a good time, but the southeastern Arizona DUI task force will be out there Friday night from 4:00 o'clock until Midnight. I'm not trying to threaten anybody or discourage them from having a good time, but do it the right way." 
The Sierra Vista Police Department, Bisbee Police Department, The Cochise County Sheriff's Office, and other agencies work within the task force. No matter where you are in Cochise County, police agencies will be looking for DUIs as well, so don't think if you're not in Sierra Vista, you'll get away with it. Wachtel included, "Impaired driving, don't do it, it's not worth it, plan ahead."  
Why does the DUI Taskforce announce when and where they will be? "It's a public service. We're not out here threatening to arrest people. The biggest thing with Friday night is to celebrate on your terms, not our terms. Unfortunately, if you run into us because you are impaired, you will be celebrating under our terms, and we don't want to see that happen." Wachtel said.  
There are so many different ways to plan ahead: have a friend that comes along that's not going to drink; it's called a designated driver, or plan ahead with a taxi or a ride-share, Uber or Lyft. Sergeant Wachtel said, "We enjoy pulling people over and find the driver himself or herself is a designated driver, sober as can be, and the rest of the individuals in that vehicle can be drunk, and that's a good sign."  
Don't Drink and Drive.