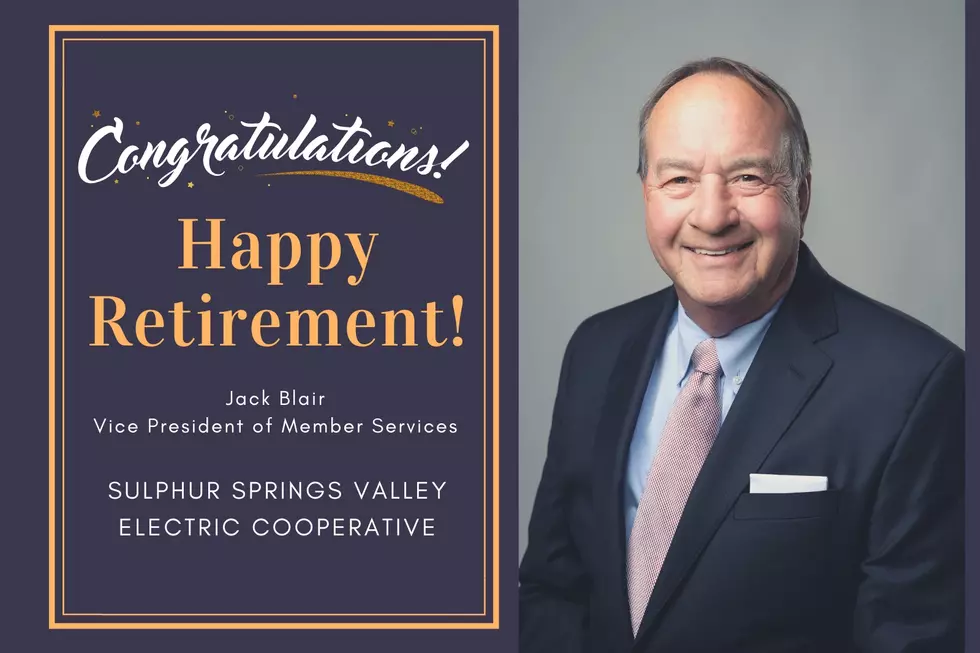 Jack Blair Vice President of Member Services at SSVEC Retirement
photo credit Sulphur Springs Valley Electric Cooperative, canva
Sulphur Springs Valley Electric Cooperative, also known as SSVEC, has always been a supporter of community and local events. This radio station has teamed up with SSVEC on multiple occasions to promote a verity of non-profits like the Boys and Girls Club of Sierra Vista, the Firefighters Toy Drive,  and a long list of local happenings. SSVEC is also the sponsor of the very popular radio program "First Watch" with Sheriff Mark Dannels on 92.3 FM KWCD. 
We would like to congratulate Jack Blair, Vice President of Member Services at Sulphur Springs Valley Electric Cooperative as he has announced his retirement. 
Blair, of Sierra Vista, has served in a leadership role at the cooperative since joining the organization in 2001 after relocating his family from California. 
"It's been a sincere honor and privilege to work side-by-side with Jack and benefit from his knowledge, his experience and his commitment to our community," said Jason Bowling, Chief Executive Officer at SSVEC. 
Blair has been instrumental in maintaining public support and developed strong professional relationships during periods of rapid expansion and modernization of the Cooperative. During the past two decades SSVEC's meter-base has more than doubled, keeping pace with population and business expansion in the region. 
Blair's efforts to maintain a positive public perception of the Cooperative — highlighting the work of the organization's line workers and employees, publicizing its strong financial performance, and emphasizing SSVEC's commitment to new technologies — have consistently generated high marks in annual member surveys. 
Shortly after settling into the community, Blair began volunteering his time and services to local nonprofit organizations. 
As a member of the Sierra Vista Medical Regional Center Board of Directors, Blair was instrumental in helping the facility raise more than $100,000 for the purchase of new medical equipment. 
A few years later he headed a grassroots campaign to pass a revenue bond for the Sierra Vista Unified School District. 
Blair was an active member of the Sierra Vista Area Chamber of Commerce and served as president of the local business group from 2015 to 2016. 
He has been a longtime member of the Fort Huachuca 50, an organization that seeks to serve the needs of the local post by working as a liaison to city government and by lobbying for the fort at the state and federal levels. Blair also served on the board of directors for the Cochise Water Project, which funded water conservation initiatives throughout the area. 
In his professional capacity, Mr. Blair is directly responsible for allocating funds on behalf of SSVEC in support of community organizations. His active engagement with Veterans, the Boys and Girls Club, the Cochise Education Foundation, and numerous other local groups has been instrumental in arranging for financial support from SSVEC. 
During the height of the pandemic in 2020, Mr. Blair put out a call to food pantries and other social service agencies to prioritize their needs and assure support for the vital role these organizations were playing to assist those in need. 
We here at Town Square Media wish him well in his retirement and his next adventures.