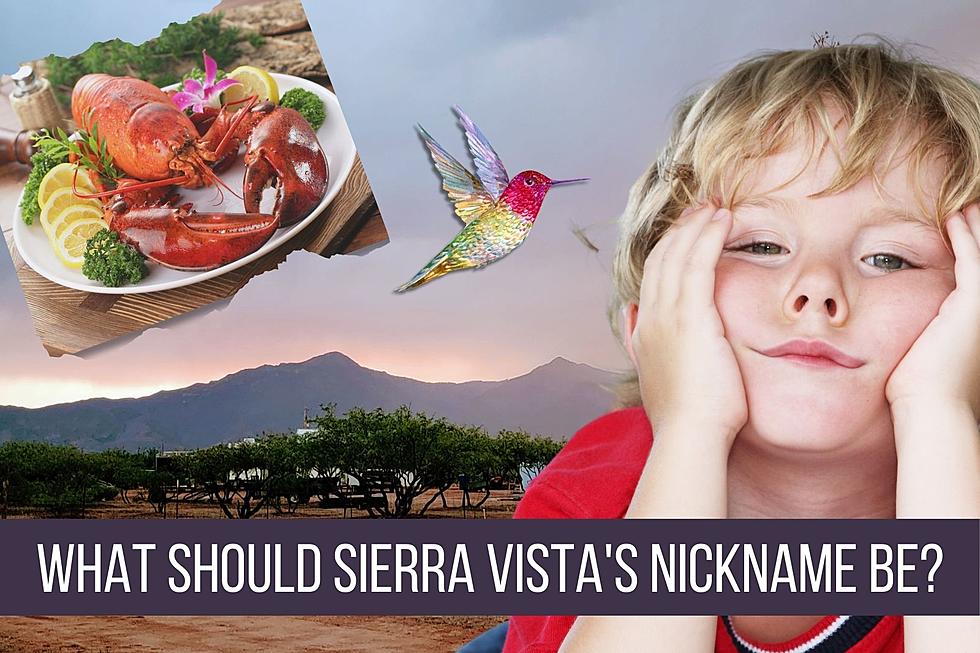 What Sierra Vista's Nickname Should Be – According to YOU!
Background photo: Val Davidson/TSM. Everything else: Credit Canva
Cities around the world have exotic or funny nicknames, so it seems only fair Sierra Vista should have one, too. And if our Facebook page is any indication, you agree with me. When we asked the question, you came up with a ton of hilarious answers, but I started to notice some trends.
Sierra Vista is known for a few things, like Fort Huachuca, the attracting seasonal birdwatching, and some long-lasting local legends.
But what's our nickname? I did some research and found out Sierra Vista doesn't officially have one. That's right, Sierra Vista is a nickname-less city. How sad is that?
With your help, we came up with some possible appellations. Here are some suggestions.
The Hummingbird Capital of Arizona
This might be as close as we get to an actual, official nickname. On May 12, 2021, Governor Doug Ducey signed legislation that designated Sierra Vista as the official Hummingbird Capital of Arizona.
We've been claiming the moniker of Hummingbird Capital of the World for decades now, and I think it's fair. Sierra Vista is home to more than 170 species of birds and hosts an annual birding festival. Plus, it sounds cool and catchy, especially if you own a nifty pair of binoculars, Birds of Arizona Field Guide and a good pair of hiking shoes.
Western Paradise or Pretty City
On Facebook, Josh gave us Western Paradise and Lia suggested Pretty City as possible nicknames for Sierra Vista. They both pointed out that Sierra Vista is a beautiful place to live and thought the nickname should reflect our beauty here.
Laura suggested, Not Just Another Sunny Place, which I think sounds sweet. I like our sunny thinkers, but some of us leveraged humor when thinking up a nickname.
Funny Nicknames
A few people leveraged the long-standing Legend of the Red Lobster That Never Was theme when suggesting a nickname. The latest local social media phenom, the Black Truck Guy saga was also brought up. If you don't know about the BTG story, you're clearly not wasting your life on the local Chit Chat sites, the way I am.
Potville was offered up by Donna, in honor of the potholes on our fabulous roads. And someone else suggested Mountain View. I mean, I guess that's kind of redundant, but I okay.
Maybe Not-So-Funny Nicknames
A guess a few of our Facebook followers are a little salty with our area. Here are a few of the not-so-flattering sobriquets:
The Armpit

What Red Light?

Sorry Gulch

Ghost Town Sierra Vista

Slothville

and the ever popular: Sorry Visit
Do any of these nicknames fit? Which ones do you like best? Or do you have any other ideas? Let me know your thoughts!