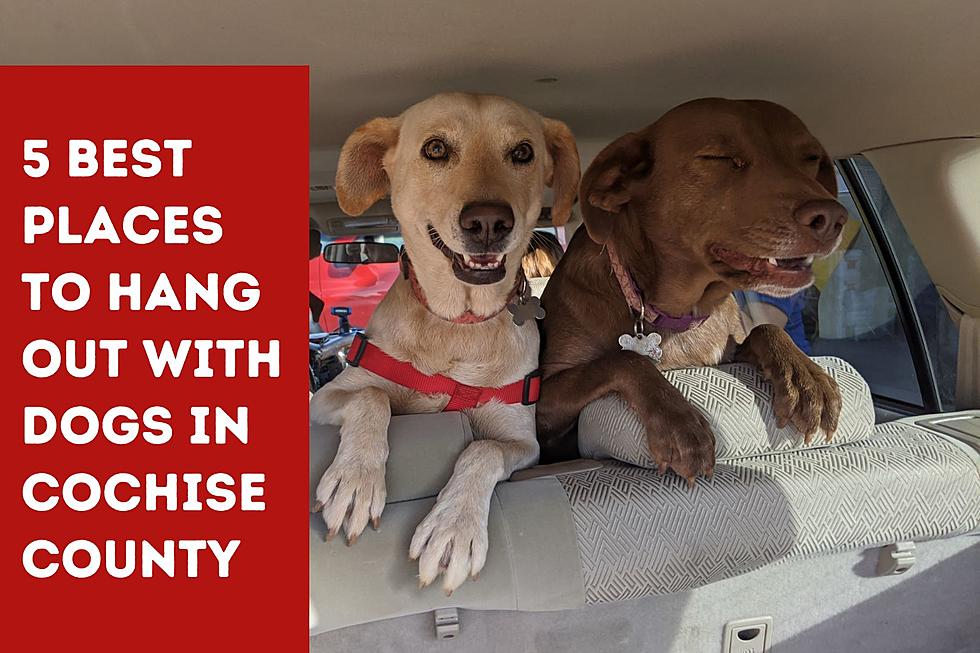 The 5 Best Places Hang Out with Your Dog in Cochise County
Nilla and Latte love riding in the car. Credit: Val Davidson/TSM
In Arizona, we love hanging out with our dogs. Here are the best places to hang with your dogs around Cochise County.
1. The Dog Parks
If you've got a well-behaved pooch who needs some exercise, a visit to the dog park is a treat for dogs and humans alike. Humans can visit and make friends while dogs get a chance to run and play, and just be a dog.
The dog park is a great place to socialize your pet, but not all dogs are suited to this kind of interaction. First, Hill's Petfood advises dogs visiting dog parks should be vaccinated. Also, if your dog has not yet been fixed, dogs in heat should stay home.
All dogs should have a collar on and a leash available so owners can control their animals in case of dog drama, and of course, to and from vehicles for safety reasons.
If you bring toys like frisbees and balls, just make sure all the dogs are playing well together. If they're competing for a toy, it's a good idea to take the toy away to avoid conflict with other dogs - and their owners.
Bisbee and Sierra Vista each have wonderful dog parks. The Sierra Vista Dog Park can be found at Hubert Tompkins Park at the corner of 7th and Buffalo Soldier Trail.
The Bisbee Dog Park is a little off the beaten path at 316 N Washington Ave, down the street from the Safeway in Bisbee.
2. Take a Hike at Brown Canyon Ranch
If you'd like to get out in the fresh air for an easy, fun hike, head over to Brown Canyon Ranch.
According to AllTrails.com, an easy, starter hike is the Ranch House Loop. The loops is a "0.7-mile loop trail near Sierra Vista, Arizona. Generally considered an easy route, it takes an average of 14 min to complete."
3. Or Hike at San Pedro House
Another great hike can be found around the San Pedro House off Highway 90. The paths are fairly flat, mostly shaded and a comfortable walk for both dog and human.
When you're hiking with your pet, always be sure to carry extra water for both of you and of course, disposable bags to clean up after her.
4. Sierra Vista's Multiuse Paths
Have you noticed how many multiuse paths we have around Sierra Vista? They're all over the place! The run along highway 92 near the mall, up Avenida Cochise, and around Cochise College, to name a few of the best spots.
These paths are a great place to hang out with your dog but be sure to use caution when the weather warms up.
Since most of these paths aren't overly shaded, it's best to take Fido for a walk early in the morning or late in the afternoon and early evening. Since these paths are made of asphalt, they get hot faster than traditional sidewalks.
The American Kennel Club has some advice to determine if a walkway is too hot for little paws.
The AKC website advises, "When the thermometer registers 85 degrees and stays elevated throughout the day, taking your dog everywhere you go or even for a short outing can lead to a serious injury."
To determine if the ground is too hot for your dog to walk safely, "place your hand comfortably on the pavement for 10 seconds. If it's too hot for your hand, it's too hot for your dog's paws," says Jerry Klein, DVM, AKC's Chief Veterinary Officer.
5. Don't Forget the Dairy Queen Pup Cup
When we take our dogs Nilla and Latte to the vet, we always stop after the trauma of vaccinations to grab a Dairy Queen Pup Cup on the way home. This is an occasional treat since ice cream has a lot of sugar and isn't great for dogs. Or me either, I suppose.
If I'm being honest, getting my dogs an after-vet treat is really more to make me feel better than them. My dogs seem to forget the supposed trauma of the shots and the vet visit within moments.
So how do you order a Pup Cup for your dog? Taste of Home says this is part of Dairy Queen's secret menu and you won't find the Pup Cup listed on the menu board. This item is pretty popular, so most of the staff know how to make it, and some even come with a little dog biscuit on top!
A Tired Dog is a Happy Dog
One thing's for sure: a tired dog is a happy dog, and spending time together is its own reward.