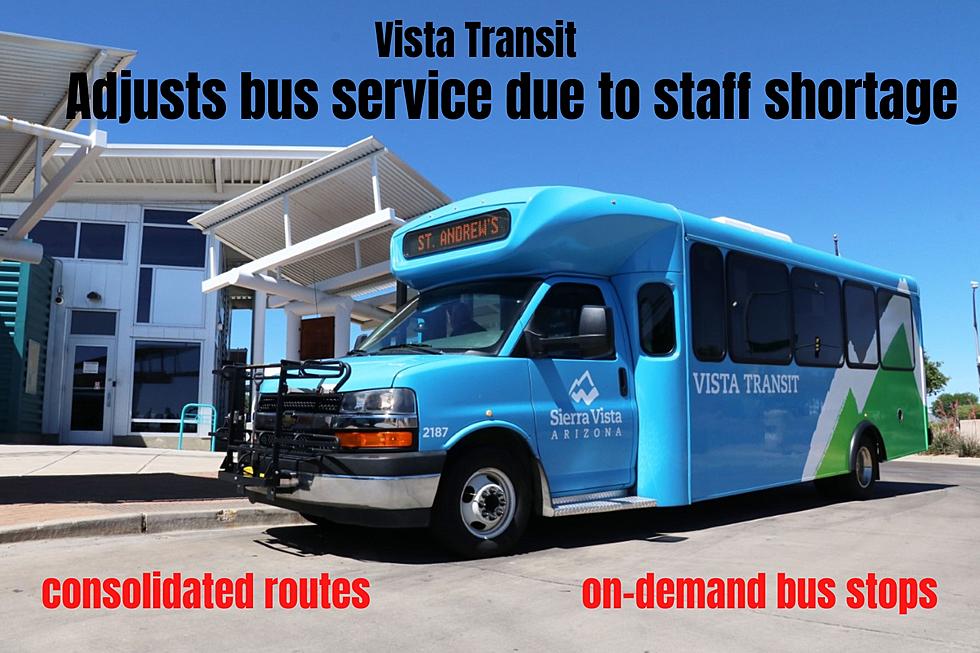 Vista Transit Adjusts Bus Service Due to Staff Shortage
Photo courtesy of City Of Sierra Vista. Canva
The city of Sierra Vista is adjusting the Bus service due to staff shortages. The Bus service becomes free on March 1st, and they are still looking for drivers. See both of those stories HERE
PRESS RELEASE
FOR IMMEDIATE RELEASE: Feb. 17, 2023
Vista Transit adjusts bus service due to staff shortage
Sierra Vista, AZ. 02/17/23. Effective Monday, Feb. 27, Vista Transit will temporarily further consolidate routes and offer on-demand bus stops at key locations no longer served by a fixed-route due to a shortage of transit drivers. Paratransit will continue to operate without changes.
The changes will eliminate the Saturday Red Route and consolidate the Blue Route and Yellow Route, available Monday through Friday, into a new Pink Route. The Pink Route will operate from 7 a.m. to 5 p.m. on weekdays, restoring 1 hour of service in the morning to aid riders traveling to work. The weekday routes have been operating from 8 a.m. to 5 p.m. since December 2022.
Vista Transit will also begin offering on-demand bus stops in areas not served by the Pink Route. Signs will be posted at these locations directing riders to text (520) 417-4888 to arrange for a ride to the Transit Center, a transfer onto the Pink Route, or to another on-demand bus stop. Riders can also call but texting is preferred. These on-demand stops will be served from 7:15 a.m. to 4:15 p.m. on a first-come, first-served basis.
"These changes are necessary to continue serving our riders who rely on Vista Transit to get around town, while we bring more drivers on-board and get them up to speed with training," says Chanel Kirkpatrick, external operations manager for the Public Works Department. "We've heard how vital extending hours in the morning is to help folks get to work and we are making every effort to meet our riders' needs despite ongoing challenges with staffing."
Vista Transit will also go fare free for six months starting March 1. This pilot program will continue until Aug. 31 when it will be reevaluated.
The route information at www.sierravistaaz.gov/our-city/bus-service/route-information will be updated by Feb. 27 to reflect the changes and detail stops along the new Pink Route.
--MORE--
On-demand bus stops will be available at the following locations starting Feb. 27:
· Cloud 9 Mobile Home Park, 90 Rainbow Way
· Canyon Vista Medical Center, 5700 Hwy 90
· Pedro Castro Maintenance Center, 401 Giulio Cesare Ave.
· Giulio Cesare Avenue and Charleston Drive
· Campus Drive and Colombo Avenue
· Sierra Bella Apartments, 1555 E. Busby Drive
· Las Brisas Apartments, 2200 Las Brisas Way
· Lenzner and Bella Vista Drive
· Bella Vista Elementary School, 801 N. Lenzner Ave.
· Sierra Vista Public Library, 2600 E. Tacoma St.
· Ethel H. Berger Center, 2950 E. Tacoma St.
· Snyder Boulevard and Paseo San Luis
· Foothills Drive and Highway 92
· Avenida Cochise and Highway 92
· The Mall at Sierra Vista, 2200 El Mercado Loop
· Coronado Drive and Sunburst Drive
· Coronado Drive and Crestwood Drive
· Bonita Vistas Apartments, 570 S. Coronado Dr.