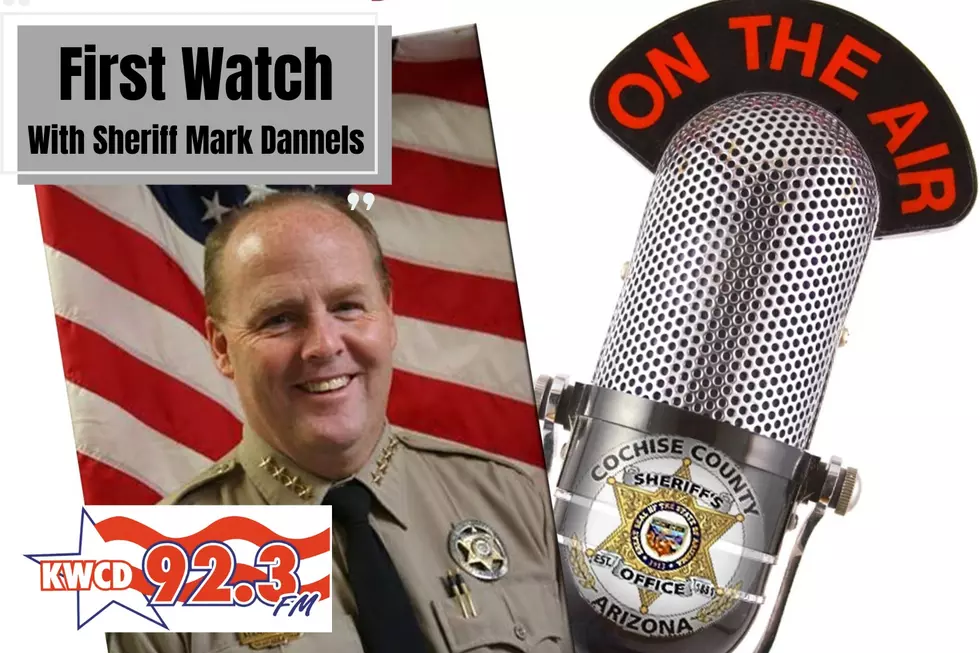 First Watch Radio Program Hosted by Sheriff Mark Dannels
Canva
First Watch is a radio program hosted by Sheriff Mark Dannels on KWCD 92.3 FM in Sierra Vista every Friday at 7 AM. It is sponsored by Sulphur Springs Valley Electric Cooperative. The show is hosted by Cochise County Sheriff's Office Public Information Officers Carol Capas and Grady Butler. 
For the first 20 minutes of the show, Sheriff Mark Dannels talks about the Sheriff's Office and its operations for the week. Think of it as a weekly Cochise County State of the Union address. Sheriff Dannels always says one of his first priorities is community. This show is an extension of that sentiment. He often gives "Border Updates", safety messages, and information about dealing with the State and Federal Government to support Cochise County.  
Sheriff Dannels said, "The Cochise County Sheriff's Office has three objectives: Education, Prevention and Enforcement. Sixty percent of what we do is community outreach."  
The next part of the show is open to community organizations as a public service. Guest have included Governor Ducey, Congressmen, Senators, and State and local officials. Local non-profits, The Boys and Girls Club of Sierra Vista, Salvation Army, Peach's Pantry, The Forgash House, Lori's Place and local animal shelters. 
The last part of the show is usually local events for the community to attend. These events have included major parades from all over the county, 4th of July Fireworks, Tombstone Vigilante Days, Rex Allen Days in Wilcox, Bisbee 1000 stair climb, County Fair in Douglas, Huachuca City Haunted House, as well as City functions, County functions, and State functions. 
This show is a chance to spotlight the men and women of the Cochise County Sheriff's Office and what they do daily. It is also a way to give back to the community and support everyone that is doing good work for all of Cochise County. 
Listen Live Every Friday at 7 AM HERE. Click on the "Listen Live" button.